Pickups and Drops - Before Week 11
Posted by d-Rx on 11/16/10
Pickups and Drops
The problem with columns like this is that you can be a victim of your own success; we've been ahead of the curve on so many players that the cupboard is almost bare. Still, there is scouting to be done (and not just for super-deep leagues). The team that wins the championship usually has a couple of head-scratchers starting for them. Let's make that your team.
Note: For the rest of the year I'm going to abandon the Drops section because it's impossible to make educated recommendations at this stage. Too many factors are in play (injury, roster, trades, other contenders' rosters, etc.) so, unless a guy is so worthless or injured that the decision is obvious, it seems a waste of time.
Pickups
QB
Tyler Thigpen- Thigpen returns to late season fantasy relevance and he might have sneaky-good job security (Henne hurt, Penny hurt and ancient). He won't win it for you but if QB is your one weak link Thigpen could help save your season. Plus the guy date's this hottie, so you can live vicariously through him while he sits on your bench: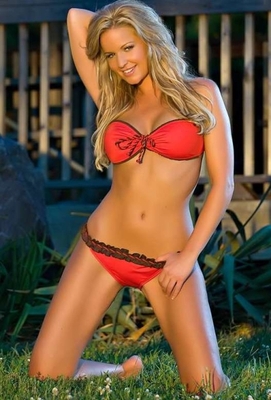 Troy Smith- This Heisman winner finally got a shot to show what he can do. After years at the end of the bench in Baltimore, the guy looked like a man possessed on Sunday. As a result, this Kanye West look-alike is going to be the signal caller for the rest of the year. He gives them the best chance to win the NFC West. In Gore, Crabtree and Davis, Troy has some serious weapons at his disposal. He threw for 356 yards with a 116 QB rating, but the thing to know as a fantasy football owner is that Smith had 3 TDs called back due to penalties on Sunday, three of them. The value add is that this guy can scramble, so you may get a rushing TD.
RB
Keiland Williams - Big garbage-time points last night. We were pimpin' this guy on FFPharmacy last week, and he came up big. There are rumblings of Portis coming back, but I'll believe it when I see it. Great boom-or-bust play but beware of Shanahanigans.
WR
Mike Thomas- The beneficiary of one of the strangest plays of the decade might be a good WR3 in deep leagues. The surprising Jaguars will likely fold but right now they look dynamic. Strange league.
Mario Manningham - Steve Smith out with a pectoral tear, that puts Mario as the #2 target from Eli. This kid can play, and the Giants have an explosive offense this year.
Jacoby Ford- I have a good feeling about him.
Sidney Rice/Vincent Jackson- Two Pro Bowlers from last season are about to return to action, if people in your league on sleeping on this fact, be the one who doesn't.
TE
Anthony Fasano - Week 10 is probably as good as it gets but he's steady and stays on the field. In 14 team leagues you could do lot worse, especially given the injury wasteland that is the TE position in 2010.
Rob Gronkowski - I don't trust any Pats player to produce on a regular basis because they change the nature of the offense to exploit the defense they face that week. This said, Big Rob is a good player and you might be desperate for an interesting option.