Green Bay Packers - 2014 Preseason #FF Preview
Last year nine teams had three or more fantasy starters in the top 60 and it is likely that it'll continue to be that way in 2014. This series: Dressed for Success, will look at NFL teams going into 2014 that have assembled the right players to be a treasure trove of fantasy studs.
2013's Green Bay Packers taught us that Aaron Rodgers is Green Bay and Green Bay is Aaron Rodgers. In the first 8 starts Aaron Rodgers scored 180.3 fantasy points and led the Packers to a record 7-1. Seneca Wallace, Scott Tolzein and Matt Flynn started 7 games and scored a combined 149.7 fantasy points, leading the Packers to a 2-4-1 record.
Championship belt manufacturing hit rock bottom.
Similarly, the WRs' started out hot, but production also suffered once Rodgers went down. Owning Packers players included a weekly grind of whether Rodgers would return. In response to 2013, if you find yourself drafting from Packers in 2014, I would keep track of Rodgers sack or hit total.
Aaron Rodgers, community college champion, is one of the members of the trinity of elite fantasy QBs, PDA – Peyton, Drew, and Aaron. But last season's collarbone injury highlighted a big con of Aaron, getting sacked a ton. His sack totals are markedly high compared to other QBs that produce as much as he does and has been partly attributed holding on to the ball for too long. In 2012, he led the league in being sacked, 51, and was tied for 6th in 2011 with 36. In an entirely unscientific study, assuming your average lineman is 280 pounds, 51 sacks equates to seven tons of lineman landing or hitting Rodgers in 2012 over the season, that's a lot!
Imagine this happening 51 times!
To his credit, he still averaged a 115 QB rating despite these high sack counts. In 2013 the trend was looking to continue. In nine games, he had been sacked 21 times, before breaking his collarbone. By comparison, Philip Rivers, Andy Dalton, and Matthew Stafford each got sacked less than 30 times on the whole season.
If I am in a scenario where I draft Rodgers, then I would certainly make drafting a decent backup QB a priority. By the fifth game of the season, if I see his sack total reach dangerously high levels again, in the upper 10s, I would shop him out ASAP, but otherwise I would keep Rodgers and shop out the other QB. Of course if no one wants to trade in your league, this probably will not work.
The argument can be made that you can pick up Matt Flynn during the season off waivers because he might be better now with an entire offseason with the Packers. But I wouldn't take that chance. Flynn's performance last year, in addition to the fact that he's been beaten out repeatedly for the starting position, is indicative that Flynn doesn't have the talent to be a starting QB. It was truly fitting that the Detroit Lions, who Flynn beat in 2011, thoroughly dismantled him on Thanksgiving in 2013, beginning what was a really boring Thanksgiving Thursday in the NFL.
From Rodgers injury we also learned that the skill players, aside from Lacy, don't produce nearly as much without Rodgers. Jordy Nelson averaged 13.4 points with Rodgers, but averaged 7 points without. Jarret Boykin averaged 7 as well without Rodgers. James Jones without Rodgers only scored in the double digits once. There's no denying that the WRs are talented and when Rodgers is on the field, the Packers WRs are dynamite; somehow Jordy still finished in the top 15 of WR in total scoring. Randall Cobb was averaging 11.5 points before his leg injury. If I were to draft these WRs I would also put myself on Rodger's sack watch. If Rodgers can stay healthy for the whole season, two Packers WRs could easily break into the top 60 fantasy players like in 2012.
Lacy's touches were marginally affected by Rodgers being out. Before Rodgers' injury, Lacy was averaging 22 touches and following his injury, averaged 18 touches, helped significantly by playing the Cowboys and Falcons. Simply put, the Packers' poor offense converting fewer third downs and playing from behind hurt Lacy's value.
Lacy still finished 7th in RBs on the season and I am ranking him high going into next season. Lacy provided plenty of sneaky PPR points, showed speed, and could hopefully bring some of his spin moves next season.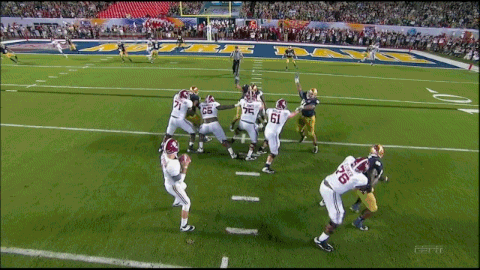 Pretty much everything Trent Richardson was supposed to be.
He did miss two games from a Brandon Merriweather concussion, but that was 97% Brandon Merriweather's fault. Fortunately for Lacy, he won't be playing Washington this year.
Do I believe in the other RBs in Green Bay? No. This image basically sums up Eddie Lacy's talent level compared to the rest of the RBs on the team, if age was indicative of skill. Lacy's Just Running Amongst Kids
The team going into 2014 certainly fits the power in numbers formula with talent at all three levels. This team is really tied to Aaron Rodgers, so let's hope that Rodgers can stay healthy. If not for the sake of fantasy, for State Farm commercials. Does anyone else sense the irony that Rodgers has the highest risk of injury due to being sacked a ton, but represents an insurance company?
PLEASE CHECK OUT TEAM 6 of 32:
By SUITS