"Your typical city involved in a typical daydream
Hang it up and see what tomorrow brings
Dallas, got a soft machine; Houston, too close to New Orleans
New York's got the ways and means; but just won't let you be, oh no."
I don't know if it is really too close to New Orleans, but I sure as hell know Houston is not anywhere close to winning the AFC South this year. They finished dead last in that division and only scraped together 2 wins last year. Just because a team is not winning, doesn't mean there is no fantasy value to be had. New head coach Bill O'Brien, yet another Belichick protégé, is looking to turn a new program around. In all honesty, this Houston challenge should be a piece of cake compared to the Penn State mess the guy walked into a few years ago. After turning the program around in 2012 from the unprecedented Sandusky scandal, O'Brien won Big Ten coach of the year. He was offered NFL jobs, but said at the time: "I am not a one-and-done guy". The following year, he was done. Evidently, he is a two-and-done sort of fellow. So, now he sets his sights on the mess that is Houston. As far as his offensive impact, he tends towards pocket passing and the running game. I don't see Ryan Fitzpatrick having the ability, nor the opportunity to be anything except a game manager. He is a smart QB that can go through his reads and will understand the O'Brien's offense. Fitz has been in the league since 2005. His career touchdown to interception ratio is 106 to 98. Houston's defense should be decent enough, and number 1 draft pick, Jadeveon Clowney, looks as advertised. You have seen it before, but can you really tire of the mega-hit against Michigan?
Clowney is up to his old tricks and announced his presence in the Atlanta preseason game.
He and J.J. Watt will be a formidable force and fun to watch.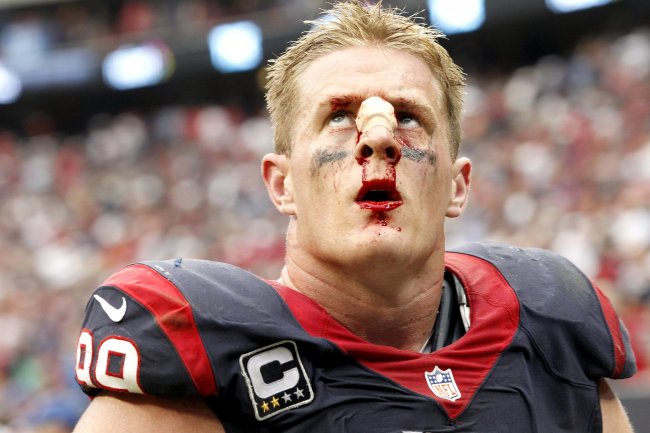 With a decent defense, and a guy like Foster running the ball, Fitzpatrick will simply need to feed guys here and there. He has some nice weapons on his receiving core. However, Fitzpatrick has never thrown for 4,000 yards, nor has he passed for 25 touchdowns in a season. When all is said and done, he should be smack in the middle of the 20's for fantasy ranked quarterbacks.
Arian Foster is going to be a huge part of O'Brien's offensive scheme. His physical break down, which Pyro called very early last year, was inevitable. In 2010, he carried the rock 327 times. In 2011, he had 278 carries. In 2012, he racked up 351 totes. It seems obvious now, but if you remember, Pyro was one of the few sites shouting this from the roof tops last year. Yet, the douche canoe sites, who always prefer to play it safe, still ranked Foster in the top ten, if not the top five in 2013. So, his season was put on ice with a major back injury, he played 8 games, only turned in 542 yards on 121 attempts and 1 rushing TD. This is dwarfed by his 2012 numbers were he rushed for 1,424 yards and 15 TDs. But, that does not mean he has fallen off the proverbial running back cliff. This year, Foster should have a bounce back season, although he is not off to a reassuring start. He has yet to play in a preseason tilt as he is recovering from an early camp hamstring injury. Besides concussions, these are some of the trickiest injuries, you just never know how severe it is, or how much it actually hampers performance. On the plus side, Houston has the best strength of schedule for running backs in 2014. This year, it seems we have come full circle. Now, if healthy, he should be able to land inside the top 10 this year for fantasy running backs. Foster is something of a dying breed in the NFL landscape. He is a workhorse back, once a staple, it is now a rarity that a team leans on one back as much as Houston does. Even if his yards per carry continue to dwindle, he will have fantastic fantasy value just for sheer volume of work. Without looking at his first season in 2009 when he only had 54 attempts, his rushing average seems to be sliding. In 2010, he averaged 4.9 yards per carry; in 2011 it was 4.4; in 2012 it was 4.1; finally, last year's shortened season saw him rush an average of 4.5 yards per attempt. One thing to remember with Foster is his use in the passing game. In 2010, he hauled in 66 passes for 604 yards and 2 TDs. In 2011, he snagged 53 for 617 and 2 TDs again. The following year, he caught 40 passes for 217 and 2 TDs yet again. In his injured, half season of 2013, he collected 22 passes for 183 yards and 1 TD. Again, this was done in 8 games, so if you double that, then it is pretty consistent with the year before. Looking at his ADP in 12 team leagues, he might just be of value by the time your draft rolls around. Looking back over the past month, Foster has fallen almost a full round. In mid-July, he was going as the 1st pick in the 2nd round. As of mid to late August, he is the 11th pick in the 2nd round. Look, outside the top one, maybe top two running back tiers, there is risk in one form or another. Pyro is liking Foster more and more. I have to say, if he is there in round 3, it would be hard to pass that up. If you want to hear more about Foster's rising value, check out the latest podcast where the boys dissect our recent PPR draft, episode 28: show 141.
If you are looking for a name to handcuff with Foster, get in line. I have heard Ronnie Brown's name from other sites that I trust. Now that they cut Andre Brown, it is a murky depth chart. Jonathan Grimes has seen the most carries this preseason. In two games, Grimes has a 4.3 yards per carry. Alfred Blue is the only back to score a touchdown. He has averaged the most yards per carry with 4.7. Ronnie Brown has only played in one game. He looked incredibly ineffective, running the ball six times for 3 yards. The remainder of the preseason will be telling, but Pyro is backing Blue in this race. He can fill Foster's shoes nicely as the dude is virtually a mini-Arian. He is a sleeper pick for Pyro. Personally, I think there is a good chance Foster does not play a full season. If indeed that is the case, Blue could have some nice value later this year. I would take the total production of Foster and Blue on my fantasy team, especially if together, they filled the role of my RB#2.
Moving to the passing game, Andre Johnson is a PPR machine. I am not talking about a half man, a half robot like Robocop.
Andre Johnson just racks up the receptions and yardage year in and year out. He has been playing since 2003 and has gone for at least 100 catches five different times. From 2007 to 2010, he crossed the end zone at least 8 times in every season. But, in the last few years, he seems to have lost some speed and does not score like he once did. Yardage wise, he is reliable. He has had at least 1,000 yards seven different times in his career, and that does not count his rookie season where he missed that mark by 24 yards. He has put up at least 1,000 yards in each of the last two seasons. He will be 33 this year. Again, you are not drafting him for his scoring potential. Last year, his five TDs came in two consecutive weeks. If you have some boom or bust guys, he is a nice rock steady receiver that can even out your line up. He was given double digit targets in 10 games last year, and saw 9 targets in 2 other games. He went for over 100 yards 6 times in 2013 and that includes his monster 229 yard game. He finished the season as the 12th best WR in standard leagues. As I have stated before, touchdowns are highly unpredictable. When drafting, you want a guy whose fantasy value primarily comes from yardage. Out of the top 20 fantasy receivers last year, Andre Johnson had the highest percentage of fantasy value tied to his receiving yardage; 82.4% of his fantasy points came from his yardage. Marvin Jones, on the other hand was lowest out of that same group. Only 51.7% of his total fantasy value came from his yards. What would you rather bet on: Marvin Jones scoring another 10 touchdowns this year or Andre Johnson going for at least 1,100 yards? By the way, Johnson has done this 7 times in his career.
If you are hip to the "Touchdown Dependency" philosophy, it is just one of 19 tabs on the Pyro draft kit. That one table alone has complete data for the top 40 QBs, the top 70 running backs, the top 100 wide receivers, and the top 40 tight ends.
Another receiver drawing the fantasy eye is DeAndre Hopkins. He is entering his second year in the NFL. Pyro likes him as a sleeper pick. Personally, I think he is a year away. Curiously, everyone is talking about fellow second year man, Cordarrelle Patterson from the Vikings. Look, I would rather have Patterson. But the gap between these two players is not as wide as 5 whole fantasy round. Patterson has less of a talent in front of him. Cordarrelle is on the field with Greg Jennings and DeAndre is playing with Andre Johnson. Plus, Patterson is more versatile, and the Vikings offense will put up far more points than Houston. If you were to just look at the receiving numbers from last year, they favor Hopkins. Patterson was targeted 77 times, caught 45 balls for 469 yards receiving. Hopkins was targeted 91 times and caught 52 balls for 802 yards. Going beyond their box scores is where the difference is really noticeable. Patterson has the advantage in overall scoring and multi-dimensional usage. Patterson had 4 receiving touchdowns whereas Hopkins crossed the goal line twice. Patterson also gets some play in the running game. He managed 12 rushing attempts for 158 yards and 3 touchdowns. Patterson also had 2 touchdowns in the return game. This is where you need to know your league. Is it a full point ppr? Do you get individual return yardage and touchdowns or does that fall under special teams? Depending on your response, their value can swing either way. You would think this would be essential knowledge, but if your tiers do not reflect the rules of your league, you are doing yourself a great disservice. Find out your rules, then, take a listen to the podcast episode 22: show 135.
Look, Patterson is going in the 4th round in 12 team leagues as of mid to late-August, whereas Hopkins is going in round 9. Patterson, though overvalued, is going to pop this year. While I like Hopkins, I do not think the conservative Bill O'Brien offense is going to allow Hopkins to flourish, at least not in 2014. Not only that, if you look around the 9th and 10th rounds for wide receivers, there are some nice rookies that I like better : Kelvin Benjamin, Mike Evans, and Jordan Matthews are all going about the same spot as Hopkins. The bottom line is Hopkins is a poor man's Patterson, but Andre Johnson still has too much value, and the system he is currently in, just will not have enough juice to fill both glasses. I would take Hopkins in a dynasty draft, otherwise, he is on my breakout list for 2015.
Finally, looking at the tight end position, the Texans are starting Garrett Graham. In his 4th season in 2013, Graham scored 6.35 fantasy points per game. Pyro likes him as a deep sleeper. Dawg and Stagg Party are highest on Graham. As of the 2014 draft kit, version #4, both Dawg and Staggs have Graham tiered with guys such as Eric Ebron and Antonio Gates. Personally, I don't think the Houston offense has enough fire power to make a huge impact outside their running back and top receiver. There is certainly not enough goo to spill over into the tight end position.
By Mo