Tampa Bay Buccaneers - 2014 Preseason #FF Preview
Alright, alright, alright. Let's get this Tampa Bay preview rolling by discussing… the Chicago Bears. If you read my Pyro Index vol. 1, then you know the Chicago Bears have the most wins of any organization in football.
At the end of the 2013 season, they had a combined total of 747 wins, including the playoffs. Obviously, any coach is going to feel the heat in the windy city if they are not successful in with this organization. So, when Lovie Lee Smith coached the team in 2012 and they failed to reach the playoffs for the fifth time in six years, he was canned. That man was CANNED after all the HEAT.
So, fast forward to 2014, and Smith is in the coaching seat once again, this time in Tampa Bay. The Bucs were in the NFC North division once upon a time, but now round out the NFC South along with Atlanta, Carolina, and New Orleans. Smith, not known for his offensive prowess, will have a difficult time putting up points in that division. In his nine years coaching in Chicago, his average offensive rank for total points was 18th.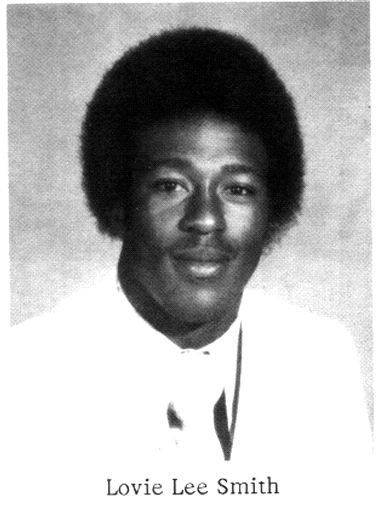 According to the projected Pyro Power Rankings for 2014, Carolina and New Orleans are in the top four for stingiest defenses. Those defenses are going to be tough this year, and teams facing them may find it difficult to put points on the board. To quote Dawg on the subject of Lovie Smith: "Lovie's name should be changed to Hatie for fantasy owners". Truly, I have not heard such linguistic beauty since Keanu Reeve's Shakespearian performance.
Take that Bill and Ted! Quarterbacking the Bucs through an excellent adventure this year is Josh McCown. He did a masterful job filling in for Cutler last year. He played in eight games but started only five. He was 149 for 224 on the season and totaled 1,829 yards. Amazingly, he tossed 13 touchdowns with only 1 interception, plus he ran another one in for a score. Of the five games he started, he went over 300 yards three times. The other two games were both over 200 yards. The important thing to remember, this was done under Marc Trestman. This is a huge reason why Pyro's final draft kit ranking has McCown rated #24 at the position. Some people have been touting McCown and his reunion with Smith. Alright, the two worked together, but when McCown was on fire last year, Lovie was no longer on staff. They don't call Trestman the quarterback whisperer for nothing. I have serious doubts that McCown will put up the same caliber performance under Lovie Smith. Do not get caught up in the douche canoe hype. I have seen McCown on some crazy lists from some of those top 40 fantasy sites out there all claiming McCown is going to breakout. Tap the brakes, and remember Lovie Smith is no Jack Kennedy and he sure as hell isn't Marc Trestman!
Mike Glennon is the backup to the 35 year old McCown. This is just Glennon's second year in the league. Last year for Tampa, he started 13 games. On his biggest day, he threw for just 275 yards. On his worst day, he threw for 90. His completion percentage was just below 60%. He totaled 2,608 yards and tossed 19 TDs and 9 INTs. I could see Glennon getting some action this year. I just don't know if McCown can with stand a full season as a starter. Glennon will have a better supporting cast this year, but the guy is wildly inconsistent. Pyro puts him at #41 for their final preseason ranking.
The Tampa 2 may no longer be defined as a defensive scheme created by Monte Kiffin and Tony Dungy after seeing the two Tampa receivers take the field this year. Sometimes, "it takes two to make a thing go right, it takes two to make it outta sight".
The 2 I am referencing are the Tampa receivers in 2014: Vincent Jackson and Mike Evans. These two monsters are both 6"5'. So, you may ask yourself: Does height matter for wide receivers? Thank goodness Pyro has got your back on this one.
Starting off with Vincent Jackson, he is entering his 10th year in the NFL and 3rd in Tampa Bay. Since arriving, he finished 6th and 14th respectively for fantasy wide receivers. Last year he was targeted 159 times and pulled in 78 receptions. After doing some strenuous calculations, I have determined that is a 49% catch rate. Out of the top 35 targeted guys from 2013, that is 2nd worst (Torrey Smith 48.1%). It gets worse, his average yards per target was 7.85 yards beyond the line of scrimmage. The average is 7.8 yards down field with a 58.5% catch rate. So, he was just average for his targets downfield, yet his catch rate was almost 10% worse than the norm. He averaged 15.7 yards per catch. So, he doesn't do too bad once he actually catches the ball, although the average yards per catch for receivers last year was 13.3. But the problem is the ball falls incomplete more often than not when thrown to him. Look, he can put up some big numbers. He had four games where he went for over 100 yards and on three of those occasions he also crossed the end zone. At those times, you love him on your team, he can win you a handful of weeks. Generally however, I want consistency on my fantasy roster. A Vincent Jackson is not bad if you have a couple other receivers that are giving solid performances week in and week out. Pyro puts him just inside the top 20 for the final preseason rankings. My problem with him is the ADP, well, that and all the drops. As of the end of August, he is going in the 3rd round for 12 team leagues. That is a heavy price tag on a guy whose catch rate is just below 50%.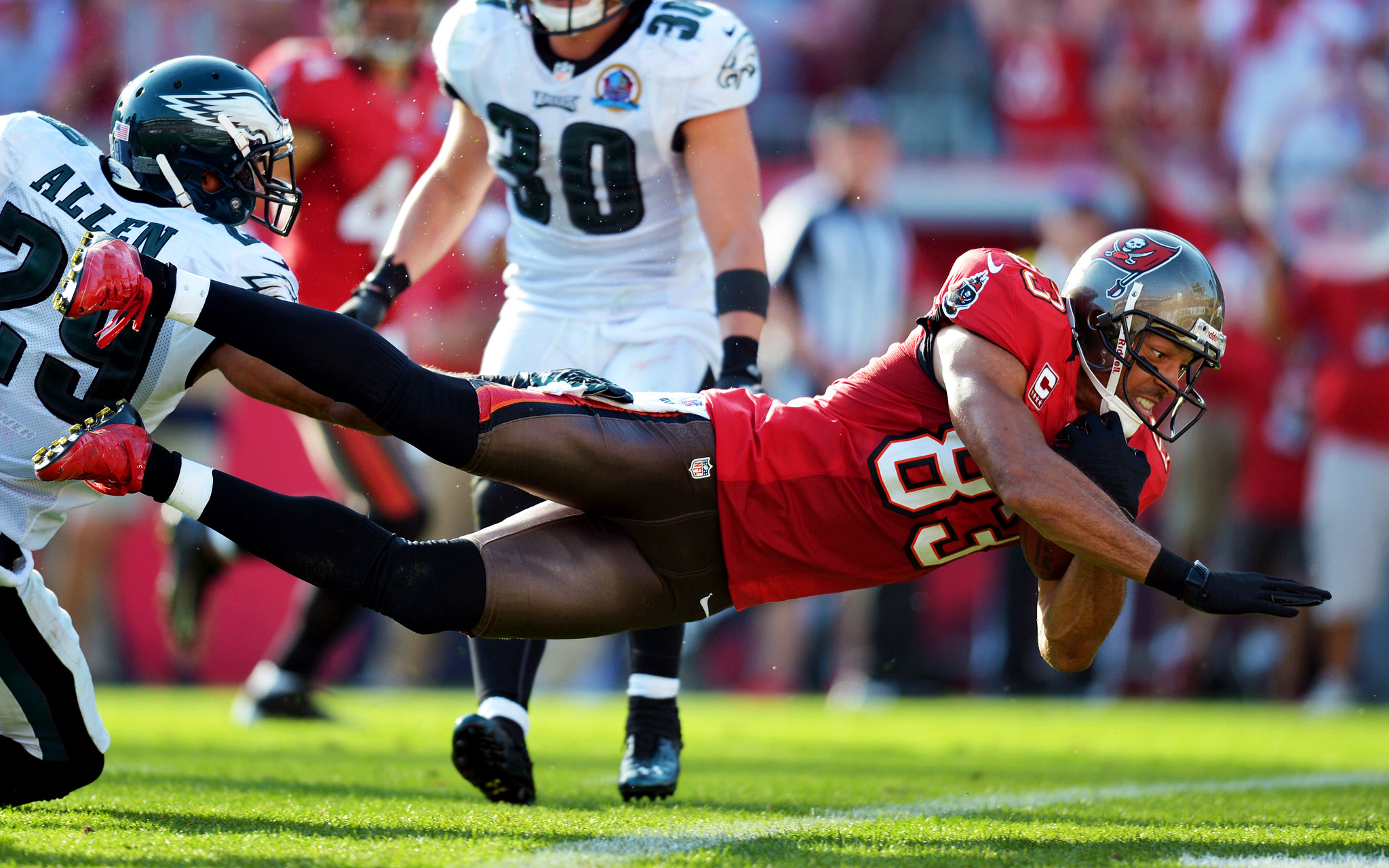 Continuing to look at the new Tampa 2, we turn our attention to Mike Evans. As of the latest ADP data, you can grab him 6 rounds later. He is going at the tail end of the 9th round for 12 team leagues. As stated, he is also 6"5' but about 10 pounds lighter than Jackson. Evans weighs 231 and ran a 4.53. He played 2 years with Johnny Freefall at Texas A&M. He had more receptions his first year, 82 to 69. But in his final year he had more yards and more TDs. In 2012 he had 1,105 yards and went to 1,394 last year. Then, his touchdowns rose from 5 to 12. He played in 13 total games last year. He went for over 100 yards 5 times, 2 of which went for over 200. He did have a tendency to disappear for a game here and there. There were a total of 5 games he totaled less than 60 yards, his worst being an 8 yard outing on 4 receptions. Pyro has him ranked at number 39, the third highest rookie receiver. Check out some of his college highlights.
Doug Martin burst onto the scene in 2012 and was just 74 shy of 2,000 all purpose yards. Stagg Party is highest on him with D-rx lowest. On the last tier sheet of the preseason, Staggs has Martin as high as #7 where as D-rx has him at #12. According to ADP's from the end of August, he is going as the 12th running back off the board. Personally, I think there is a lot of hype on this kid who really has not shown us that much. In 2012, he totaled 12 touchdowns (11 rushing). He averaged 4.56 yards per carry. But his total rushing yards (1,454) were skewed with some heavy performances. He put up 251 yards in one game. Looking just a bit closer, you discover he did that against Oakland. He only had 4 other games were he rushed for over 100 yards that year. Then, there are the six games he played in 2014. He only went for over 100 yards once. He averaged a pedestrian 3.59 yards per carry. All of that was before the injury mind you. Plus, he only scored one rushing touchdown and one receiving touchdown and both of those came in week 1. Tampa is tied for the 14th easiest schedule against the run this year. By the way, in 2012, when he was at his best, Tampa had the 6th easiest rushing schedule. It's not that I need to see it from a guy for several years before I am drinking the Kool-aid, hell, I am dancing to the Duke (Andre Ellington) in most of my drafts this year. But to me, Martin built a huge reputation on just one amazing game versus Oakland and has done little else since. It's not that he doesn't have talent. But, I have him as my 15th running back, just below Le'veon Bell and Zac Stacy.
The official back up to Doug Martin is still a bit murky. Before they lost the rookie Simms for the season (most speculate), Rainey was the #2. At the end of last season, most bets were on Mike James. But, Rainey had an excellent camp. Both guys filled in nicely when Martin went down. In fact, I had both on my dynasty team at one point last year. Rainey has dominated the carries in the preseason but has not done much with it, maintaining an embarrassing 2 yards per rush on 32 carries. Although James has a better average (5 yards per carry) they have only handed it to him 6 times. Clearly, Rainey has been getting the reps, which indicates the team's confidence in him as their #2. In 12 team leagues with 16 roster spots, neither guy is being drafted according to late August ADPs. Instead of handcuffing Doug Martin, I would spend late round picks on guys like James White or Alfred Blue. You should be able to get a Martin backup off waivers if the need should arise.
Now that Tim Wright has become a Patriot, it leaves the tight end position a bit suspect in Tampa. While they solidified their offensive line in the deal, the remaining tight ends are the rookie Austin Seferian-Jenkins and Brandon Myers. Pyro has Jenkins as their highest ranked Tampa tight end. He is another converted basket ball player which seems to be the trend these days. He set Washington school records with 146 receptions, 1,840 receiving yards, and 21 touchdowns for a tight end. The guy has talent, and now it looks like he will have the opportunity. Keep this in mind, rarely do rookie tight ends ever make an immediate impact. It generally takes several years for them to get going. Granted, we have witnessed that learning curve shorten as of late with the likes of the Jordans (Cameron & Reed). But, chances are, this kid is still a year or two away from breaking out. He could be a guy to watch, but there is just too much talent at the position this year. If you end up waiting on tight end, take a Zack Ertz, Travis Kelce, or a Dwayne Allen instead. Seferian-Jenkins can be claimed off the wire if he ends up being the real deal.
By Mo